Bahamas Spiny Lobster - trap/casita
July 2017
View this FIP's FisheryProgress profile here.
---
Ask Felicity Burrows what makes the Bahamas spiny lobster fishery improvement project (FIP) work, and The Nature Conservancy's Marine Conservation Manager will answer with one word: collaboration.
Before the FIP, the spiny lobster fishery's stakeholders just didn't connect in a deliberate way. Industry, conservation groups, and the government knew there was work to do but they didn't know precisely how to go about doing it in a cohesive manner. As Felicity puts it, consumers, and fishermen "would typically state the government is responsible for fisheries. And as it relates to implementing and enforcing fisheries regulations that's true. But the government can't do it alone. It is important to understand that the government doesn't benefit from the sale of a lobster in the same direct way fishermen, seafood exporters, and local buyers do. Also, lobster is considered a precious commodity culturally to the Bahamian people. So we all benefit in some way from this fishery and should be more involved in finding ways to sustain it."
The FIP began to change the level of stakeholder collaboration when it forged a partnership between The Nature Conservancy,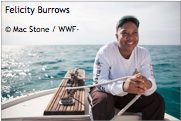 World Wildlife Fund, the Bahamas Marine Exporters Association, and the Bahamian Department of Marine Resources (DMR). A 2009 pre-assessment identified concerns about the sustainability of the fishery, which in turn raised concerns about the viability of industry's market share. That ability to "show that everybody has a stake in the fishery's survival," says Felicity, "really brought the stakeholders together."
And the stakes are certainly high. The Bahamian spiny lobster fishery sells mainly to buyers in the United States and Europe, where its seafood is sold under familiar brands. If you've had lobster at Red Lobster or bought it at Sysco, odds are you've eaten seafood from that fishery. Exports bring approximately $75 million in revenue back to the Bahamas in a typical year, supporting as many as 7,000 local fishermen and thousands more Bahamians working. As Felicity observes, "If a country that imports seafood blacklists an exporting country, it's very difficult to get off that list. And in a country like the Bahamas, if that was to ever happen that could affect the incomes of thousands of persons."
One priority identified by the pre-assessment was Illegal, Unreported, and Unregulated (IUU) fishing. The DMR is the Bahamian fishery management agency tasked with enforcing fisheries regulations. The Royal Bahamas Defence Force – the nation's military – also has a mandate to serve as fisheries inspectors while patrolling and protecting the borders of Bahamian waters. The assessment found that, with only a few boats to patrol more than 100,000 square miles of water, the enforcement fleet was stretched too thin. The assessment also found that the Defence Force was technologically outmatched. Its boats had to return to port overnight, because they lacked the supplies required for extended patrols – especially to southern islands distant from its Nassau headquarters. Gaps in cellular and radio networks made it hard for law-abiding fishermen to report illegal activity, and when authorities pursued criminals, they often found their quarry commanding faster boats.
Informed by the assessment, the DMR established a stakeholder process coordinated through the FIP to improve fishery management. In addition to regulatory changes like tripling illegal fishing penalties and training Defence Force officers on fishing  regulations, that process also resulted in improved enforcement. With support from a diverse set of stakeholders, the Defence Force was able to secure several additional patrol boats. But it's not just about the numbers, and the new patrol boats offered critical technological improvements. In addition to improved speed and communication upgrades, the new boats stocked supplies required for extended deployments, sharply increasing their deterrent effect in the country's south. As a result of stronger penalties, improved training, and better equipment, illegal fishing is down significantly according to observations by industry and conservation groups.
A second challenge identified through the FIP's initial assessment was data collection and monitoring. Basic catch landing data – weight, length, number, and place – was collected only sporadically. While boat captains were generally registered with the DMR, management officials often didn't include how large a crew was sailing on a given day. Even if they had consistently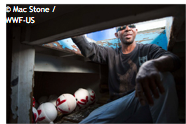 captured relevant data, the paper system in place for recording catch data would have made timely analysis nearly impossible. "If you don't have accurate and relevant information regarding what and how much is being taken out of the water," Felicity asks, "how do you know if your management strategy is truly effective?"
The FIP brought in a consultant who worked with the DMR, industry, and conservation groups to review the data collection and management process and define specific obstacles. Informed by that review, the FIP worked with the DMR to design new "catch certificates" that are completed by fishermen and buyers or exporters. The paper certificates are collected dockside by the exporter, sent for data entry, and uploaded into a computerized database that exporters share with DMR. This vastly improved system lets them collect and analyze data consistently to help ensure sound management and monitoring. This information has also contributed to management policy change, including a new harvest control rule that serves as a "circuit breaker" in case stocks drop below a sustainable level.
The spirit of shared interest that drove the FIP's early collaboration also drives its vision for the future. A Marine Stewardship Council assessment team has gathered information required for a certification review, and the FIP expects a decision in early 2018. MSC certification could serve as a concrete indicator for the government of the Bahamas that its management policy and practices will conserve a unique environmental and economic asset. And industry leaders will have confidence in the continued viability into the European and American markets. As Mia Isaacs of the Bahamas Marine Exporters Association says "the FIP and all its work toward MSC certification is about protecting a fishery – and a way of life – that we all depend on. And the best way to do that is together."